There are a lot of activities that are undertaken over the course of the year, primarily by SCA's main consultant, Lukas Manomaitis.  Some clients prefer to maintain confidentiality, but for SCA's primary client, USSEC, the program activities are essentially all open and public.  Therefore most of the following are from USSEC-related events.  Both upcoming events are listed at the top and prior events (oldest at bottom, starting from the updated website launch date).
*Next planned or accomplished major activities:
October 2023: Present at a Biomin event in Mexico
Late June to mid-Aug 2023: Will temporarily be based in the Northeast USA, please contact for assignments from there
May 2023: Planned dates for the USSEC SEA Regional IAFFD workshops
April 2023: Attend the Global Seafood Show in Barcelona, possible GSA SOC Meeting
March 2023: Attend the Seafood Expo North America in Boston, USA
January 2023: USSEC SEA Aquaculture Team Meeting (location TBD)
December 2022: Present and participate at the Aquaculture Production Training & Certification (APTC) with the USSEC South Asia program in Bangkok, Thailand
December 2022: Attend the AGP Event in Manila and visit key stakeholders and the IPRS demonstration site
November 2022: Attend the World Aquaculture Conference in Singapore
November 2022: Travel to Vietnam to work with the USSEC Vietnam Aquaculture Program, including meetings with key stakeholders and Can Tho University
October 2022: Attend the GSA SOC meeting and GSA GOAL 2022 Conference in Seattle, Washington, USA.
October 2022: Travel in Indonesia to work with the USSEC Indonesia Aquaculture Program, meeting with key stakeholders and participate in the

Indonesia Shrimp Investment Forum

September 2022: Participate and be a panel speaker at the USSEC IAC meeting and Agriculture Cooperators Conference in Bangkok, Thailand
September 2022: Present at the Aquatic Asia workshop at VICTAM Asia 2022
September 2022: Attend the Singapore Seafood Expo in Singapore
August-September 2022: Work with USSEC on the global IAFFD Feed Formulation Workshops.
July 2022: Present at the 38th Meeting of Fish Feed & Nutrition Workshop  in Moscow, Idaho, USA
June 2022: Attendance at the ISFNF in Sorrento, Italy.
April 2022:  Meeting of the Global Seafood Alliance's Standards Oversight Committee meeting in Barcelona, Spain, and possible participation in the Global Seafood Expo.
March-April 2022: Lead Dr.Jesse Chappell, IPRS specialist, in Southeast Asian nations.
March 2022:  Take part in the Seafood Expo North America in Boston, Massachusetts, USA.
March 2022:  Travel to the World Aquaculture Society Triennial Conference in San Diego, USA.
February 2022: Participate as a speaker and panelist in the "The Coming Up Disruptive Technology in Aquaculture and Fisheries" at Kasetsart University, Bangkok, Thailand.
January 2022: Speaker and panelist at the "Future of Fish Farming – Tilapia" online event with SeafoodMedia and the Association of International Seafood Professionals.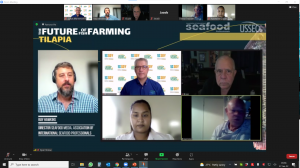 January 2022:  Return to Thailand after an extended period outside SEA due to Covid-19 Pandemic restrictions.
December 2021:  Lead a panel at the USSEC Southeast Asia Sustainability Symposium.
November 2021: Take part in the 2nd South Asia & Southeast Asia U.S. Soy Marketplace event online.
November 2021: Travel to the Global Seafood Alliance headquarters in Portsmouth, New Hampshire, USA.  Travel to Canada to meet with representatives of Wittaya Aqua.  Also visits to the U/Guelph Feed Nutrition Lab, the Ontario Aquaculture Research Center, and the Aqua-Cage Fisheries operation in Parry Sound.

Aqua-Cage Fisheries, Parry Sound, Canada

October 2021: Travel to present at the European Aquaculture 2021 Conference in Portugal.
September 2021:  Travel to the Northern Crops Institute and visits to key US soy processing facilities (Prairie Aquatech and Midwest Ag Enterprises) in North and South Dakota.  Visit to TruShrimp.
August 2021: USSEC IPRS Events in Turkey and South Asia, presented in the 3rd Asia Trade Exchange, USSEC Precision aquaculture feeds seminars, attendance (virtually) of the Global Trade Exchange, travel in US to present at Aquaculture America 2021 and to the Soybean Aquaculture Alliance Board Meeting in Wisconsin (including visit to Rushing Waters Trout Farm)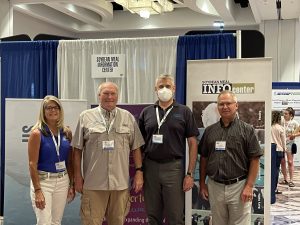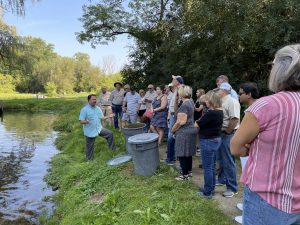 July 2021: USSEC FW Hatchery Event, temporary relocation to the USA for vaccination and domestic and international travel.  Travel in US to GSA and Diversified Communications.
June 2021: USSEC Marine fish nutrition events, USSEC OCIAT IV Event
May 2021: USSEC Regional AQ Economics 101 event
April 2021: USSEC Shrimp Initiative events
March 2021: Interview with eFeedlink, Represented USSEC in "Soy Ingredients in Aquafeeds" F3 event, USSEC Southeast Asia Aquaculture Feed Extrusion and Feedmilling Virtual Zoom Workshop with Dr.Mian Riaz
February 2021: Virtual event on the SSAP program for aquaculture feedmills.
January 2021: Moderated the US Soybean Meal Quality Workshop online which brought together both terrestrial and aquatic livestock audiences together to discuss the drivers of soy quality.  Including speakers Dr.Gonzalo Mateos and Dr.Dominique P. Bureau.
December 2020: Covid-19 outbreak in Thailand starts at end of month and stops domestic business travel.  Work on virtual events and execution of the FY21 project year and planning of the FY22 project year.  Second meeting as a member of the GAA's BAP Standards Oversight Committee (SOC)
November 2020: Full start of the USSEC FY21 project year.  "November is USSEC Aquaculture Month" with a series of 16 presentations by international experts over a four-week period.  Hiring and training of USSEC's first Demonstration Manager at the IPRS demonstration site in Phetchaburi.
October 2020: Continuation of international short-term experts presenting remotely to SEA; OCIAT III virtual event with international experts from France, USA and Turkey on how to successfully develop an offshore marine fish cage industry.  "Soft start" to the USSEC FY21 project year.  IPRS AgriSchool Online Shortcourse conducted.  Installed and first meeting as a member of the GAA's BAP Standards Oversight Committee (SOC).
September-October 2020: Organized a Team "trip" of Southeast Asian marine fish stakeholders to visit the offshore industry in various nations virtually.  Including international experts from France, Malta, Greece and the USA.
September 2020: 6th Annual USSEC Aquaculture Feed Formulation Workshop (virtual) in four SEA nations.  OCIAT III program with Dr.Hayri Deniz (Turkey) to share his knowledge on how to successfully develop an offshore marine fish cage industry.
August 2020: Work with short-term international experts (virtually) to target audiences in Southeast Asia with Dr.Allen David (USA) for shrimp nutrition, Dr.Jesse Chappell (USA) and Mr.Zhou En Hua (China) to discuss IPRS.
July 2020: Continuation of domestic travel in Thailand.  International program support is now virtual.  Programs in Thailand: IPRS efforts in Phetchaburi,shrimp trials in Bangkok and Chachoengsao and plans for a AQ1 (smart, automated shrimp feeding system) in Satun.
June 2020: International travel has been halted due to the COVID-19 pandemic, allowing only domestic travel in Thailand.  Continuation of support for the IPRS efforts in Petchaburi and shrimp trials in Bangkok and Chachoengsao.
June 2020: SCA sponsors the "Tilapia Aquaculture In Africa" Webinar conducted by Aquaculture Africa Magazine on June 18th.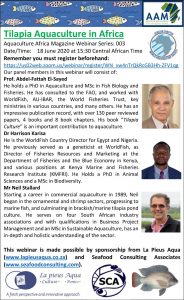 Due to my interest in the Sub-Sahara African aquaculture industry SCA sponsored a webinar on tilapia.  These are put on by a regional magazine and specifically by Etienne Hinrichsen, who also worked with me to create the 2018 report for USSEC on SSA.
June 2020: Domestic travel in Thailand to visit a shrimp farm that will host a USSEC demonstration using the AQ1 feeding technology and visits to various IPRS sites.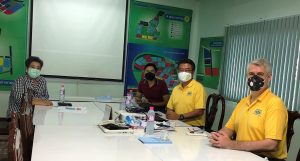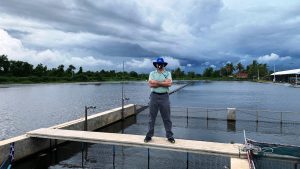 Domestic travel is still allowed and we are continuing work on one demo, two trials and collaboration with various initiatives such as IPRS improvement.
June 2020: Recorded a presentation and interview for the Seafood Media Platform (http://seafoodmedia.tv/) with the Association of International Seafood Professionals (AISP) and Mr.Roy Palmer.  Look for this to be broadcast soon!
May 2020: Participated as a speaker for the UN Global Compact Task Force "Towards more resilient and sustainable supply chains with ocean science" speaking on "Harnessing ocean science in aquaculture supply chains and facilitating science-industry collaboration"
May 2020: Restart of business travel, albeit domestic only in Thailand to visit feedmill and project sites.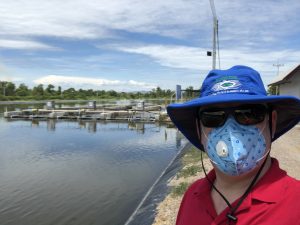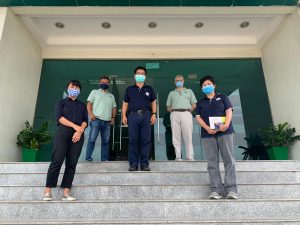 With Thailand's COVID-19 situation under control, we were given special permission (our Vietnam team has already been working) to travel for USSEC business under strict conditions.  We took the opportunity to meet with our Soy-in-Shrimp cooperators in Samut Sakorn, Thailand and then went to Petchaburi to meet with IPRS stakeholders and Kasetsart University.
May 2020: Helped to plan and organize the USSEC Global Aquaculture Webcast, the first truly global USSEC aquaculture event.  At this time I have never been part of, or participated in, so many webinars in such a short time.  On average I am doing these three days a week since April.
April 2020: Due to the COVID-19 pandemic and international lockdowns, April was primarily devoted to online events and planning.  In particular working on the USSEC Global Research Committee, where ideas for research related to feeds, grouper and shrimp were moved forward.
March 2020: Travel to attend the partial harvest of the Manit Farm IPRS in Thailand.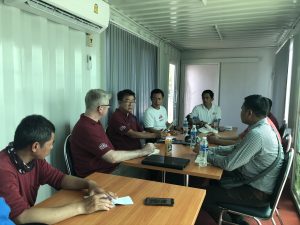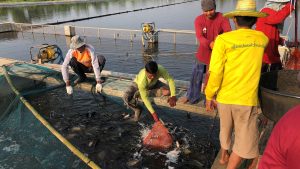 The last travel for me before COVID-19 lockdown was domestic, in Thailand.  I attended a harvest event at an IPRS site at Manit farm and held discussions with both their key staff and two potential future IPRS users.
March 2020: Travel in Thailand to identify a suitable shrimp farm cooperator for collaboration in a AQ1 smart feeder demonstration.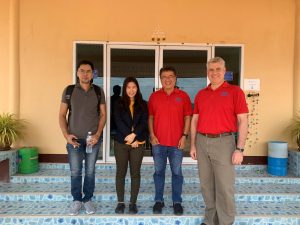 For FY20 we have many demonstrations planned, and an important one for future is testing the hydrophone-based AQ1 technology at a local farm.  We hope that this will lead to higher quality feeds being used and better efficiencies and profits.
March 2020: Led a session at the ISPIM event in Bangkok, Thailand.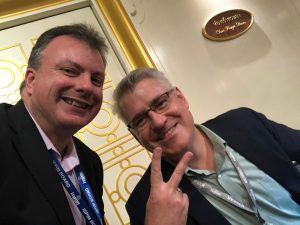 I had agreed to work with Mr.Roy Palmer to lead a session at the ISPIM (International Society for Professional Innovation Management) event in Bangkok.  As the pandemic impacted international travel and international meetings, this event was not as large as anticipated, but we still had a good event.  I attended physically, while Roy pre-recorded his material.
February 2020: Travel to southern Vietnam to work with the USSEC Feed Specialist and meet with aquaculture feedmill representatives.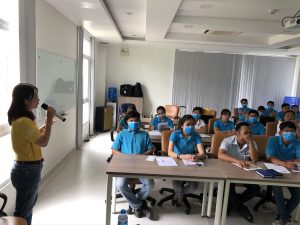 My last international trip was actually to "turn-around" on of our international experts, Mr.Mark Newman.  He had just boarded a flight from Ecuador when USSEC implemented a complete ban on flights.  I was one of the last people who traveled to get him returned to Ecuador.  Since he was in Vietnam anyway, we traveled to the Mekong to meet with a feedmill under special circumstances – you can see that everyone is wearing masks in the audience.
February 2020: Meeting with cooperators on a Soy-in-Shrimp trial in Vietnam with shrimp.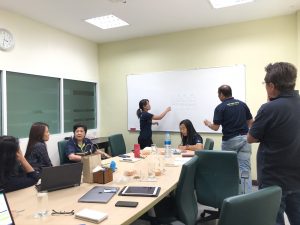 There has been a statement by an expert in Thailand that tried to tie high levels of soybean meal in Pacific Whiteleg shrimp to White Feces Syndrome.  We plan to conduct two trials with TRF Feedmill and DSM to show that this is not the case – something we know already from many years of work with soy and shrimp.
February 2020: Travel to the USSEC SEA Office in Singapore for meetings.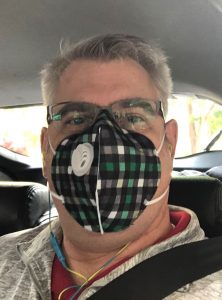 Seeing that things were getting worse with regards to the pandemic, so I made a final travel to the USSEC Regional Office in Singapore for discussions on what would happen next.
January 2020: Travel to Philippines to meet with the USSEC SEA Demonstration Coordinator and to inspect potential IPRS sites in Luzon and Mindanao.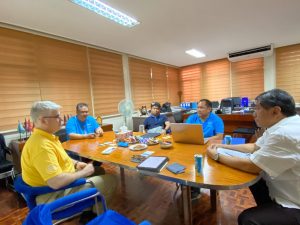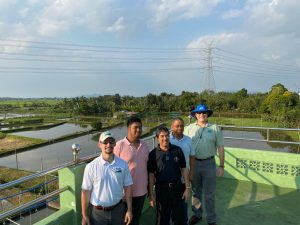 The COVID-19 pandemic was just starting to explode in China, but we still were traveling.  We traveled with the USDA/FAS staff in Luzon and separately in Mindanao, Philippines to conduct site investigations for possible IPRS sites.  We anticipate two starting soon in this nation.
January 2020: Helped to lead a group from Louisiana State University to visit aquaculture sites in Thailand.  I was also interviewed for a local Louisiana agriculture program.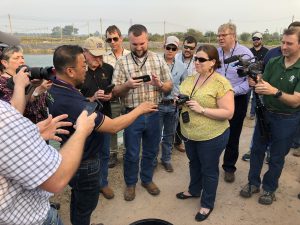 We were asked to help the Ag Leadership course at LSU to arrange visits to Thailand aquaculture sites so they could see commercial feedmill and aquaculture operations.
January 2020: Travel to Myanmar and Cambodia with ASA/WISHH to meet with aquaculture and animal livestock stakeholders.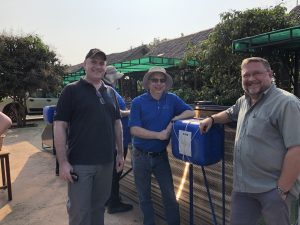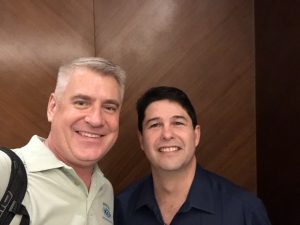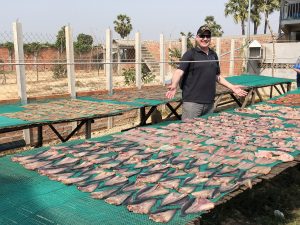 I took part in an ASA/WISHH/USSEC program in Myanmar and Cambodia where I presented to audiences about what our SEA program is doing.  I also met the new Senior Director for Livestock/Meal, Mr.Carlos Salinas.  He had just started the position so it was a good time to orient him on what USSEC has done in aquaculture over the past 35 years.
December 2019: Travel to southern Vietnam to finalize a USSEC/MOSOY floating fingerling IPRS demonstration.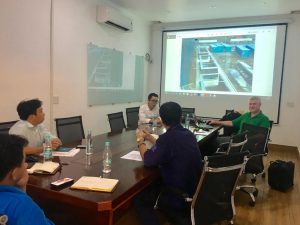 We had spent most of FY19 trying to start the first floating IPRS demonstration in collaboration with MOSOY, this trip finally allowed us to move forward with one.
November 2019: Traveled to the Manit Farm IPRS unit to hold discussions with the owner.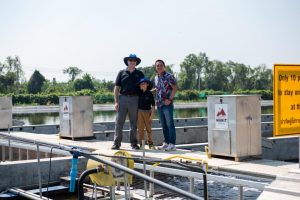 This is the first time in SEA that we have worked on a brackishwater IPRS system and this has been challenging at times.  This visit was to help discuss and reorient the program.
November 2019: Traveled to Malaysia to conduct the USSEC SEA Aquaculture Team meeting, visit the Worldfish offices in Penang and participate in the USSEC SEA Regional Team meeting.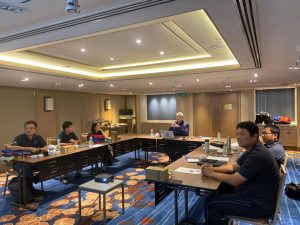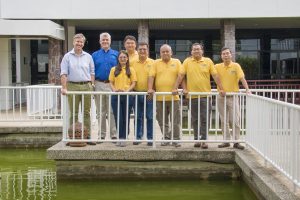 This event combined three events, the first our semi-annual Team meeting, a Team visit to WorldFish, and then the USSEC Regional Team Meeting.
November 2019: Participated in the DSM Aquaculture Conference in Bangkok, Thailand.
DSM has annual aquaculture events that are very well-run and informational.  I was able to participate this year.
October 2019: Traveled to Boston, USA to meet with the USSEC Global Aquaculture Team.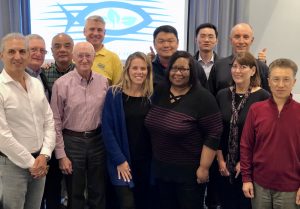 On a regular basis the USSEC Global Aquaculture Team meets, usually around this time.  This was particularly special as we learned that the way that USSEC would organize livestock would combine aquaculture and terrestrial livestock moving forward.
October 2019: Participated in the GAA GOAL Conference in Chennai, India.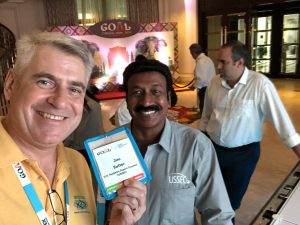 The GAA GOAL meetings are a very important event because it brings together key commercial stakeholders to discuss issues related to certification and issues impacting the aquaculture industry in general.
October 2019: Led the Progressus IPRS AgriSchool, in Hua Hin, Thailand.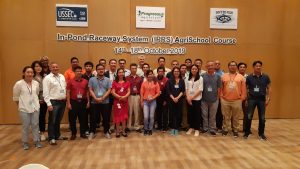 IPRS is a complicated technology to discuss in short time frames.  For that reason we worked with Progressus under their AgriSchool concept to create a five day short-course (including live and virtual international speakers) to more fully train interested aquaculture operators.
September-October 2019: Traveled to Cyprus to visit the offshore cage industry (exploratory trip).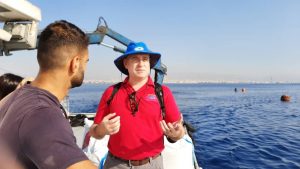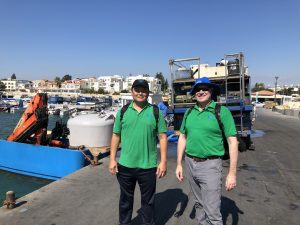 Every other year we try to bring a team of SEA marine fish stakeholders to learn from where offshore marine cage aquaculture is being done correctly.  This was a investigative trip where we worked with Dr.Tim Atack.
September 2019: Presented at the Regional Aquaculture Forum 11 in Nha Trang, Vietnam and to a visiting Indian Team.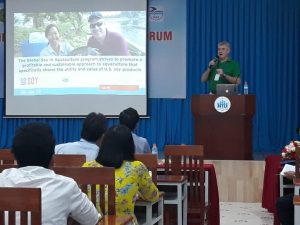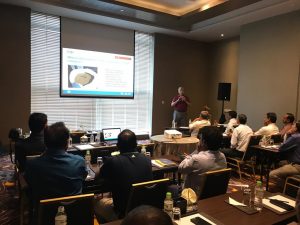 USSEC was a gold sponsor of the RAF11 event in Vietnam and I gave the presentation on USSEC's behalf.  I also met with a visiting aquaculture team from India and discussed our program and IPRS.
September 2019: Traveled to meet with feedmill target audiences in KL and Lumut, Malaysia with Dr.Dominique Bureau and travel to Penang to meet with WorldFish at their offices.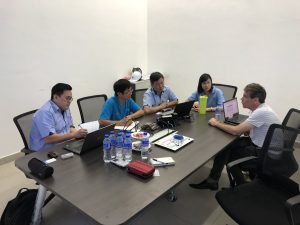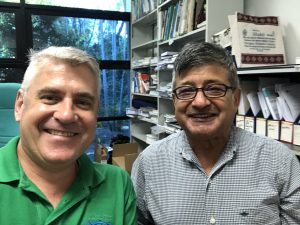 We were asked to consult on potential R&D efforts in Malaysia.  I also took the opportunity to visit a potential IPRS site and to meet with WorldFish in preparation for a future visit by our USSEC Team.
September 2019: Traveled with the USSEC Offshore Cage expert, Mr.Patrick White in Thailand, Indonesia and Philippines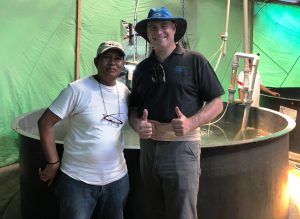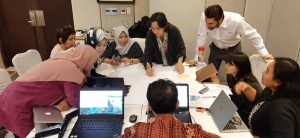 This year we decided that the most important aspect of offshore aquaculture was to get national governments involved and up-to-speed on the correct identification, zoning and licensing of offshore cage aquaculture sites.
August 2019: Traveled to Shwe Bo, Myanmar to meet with key feedmill and farmer target audiences.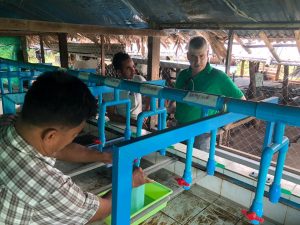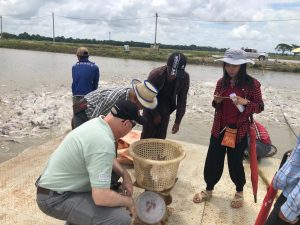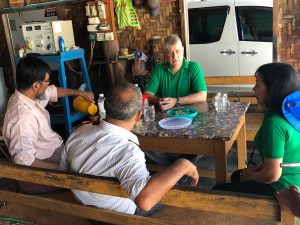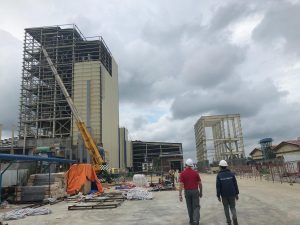 Myanmar is a country that is moving fast to catch up with the rest of Southeast Asia as it has opened up.  They are hungry for international expertise and the world is also looking at Myanmar as somewhere with great potential for expansion.
August 2019: Traveled to Singapore to meet with the USSEC SEA Regional Staff and meet with key target audiences.
It is important for me to "touch base" on a regular basis with the USSEC Regional Office in Singapore.  This is also an important nation in SEA for high-tech development, including aquaculture.
August 2019: Traveled to Augusta, Maine to meet with Dr.Sebastian Belle and his team at the Maine Aquaculture Association.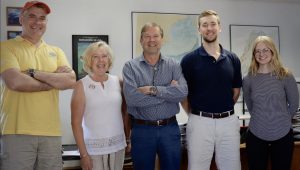 In the United States, the state of Maine is unusual in that there is significant aquaculture development.  This may largely be due to the tireless efforts of Dr.Sebastian Belle, who had previously worked internationally and brought his mindset to Maine.  He has done an excellent job of creating the correct atmosphere to develop Maine's aquaculture at every level.
July 2019: Virtually presented at the Progressus AgriSchool Aquaculture Nutrition Shortcourse.  My topic was on the IAFFD.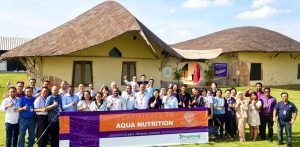 When I am in the region I try to present at this important short-course training event for aquaculture nutritionists.  This year I needed to "send it in" as I was away internationally.
July 2019: Traveled to meet with the USSEC Global Director for Aquaculture to discuss technical and program issues related to the USSEC Global Aquaculture Program
I met with Ms.Colby Pinkstone, the USSEC Global Aquaculture Director in Denver, USA to have important discussions about the future of the USSEC Aquaculture Program.
June 2019: Traveled to Petchaburi, Thailand to continue work with the fixed raceway IPRS system demonstration that is currently under construction, particularly to train their staff on best management practices with Dr.Jesse Chappell.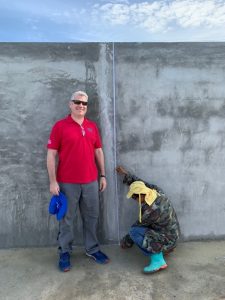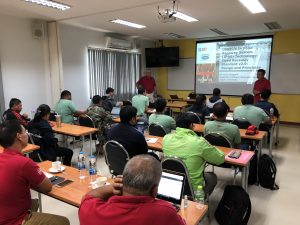 Progress at our IPRS demonstration site in Thailand has been good and we brought in the USSEC IPRS expert, Dr.Jesse Chappell, to focus on the management side of IPRS specifically.   We hope to see the IPRS system (three raceways) start in the next few months so it was important to discuss best practices with the Manit Farm team.
June 2019: Participated in the SeaWeb Conference in Bangkok, Thailand; travel to Medan, Indonesia to lead the USSEC SEA AQ Team meeting for planning FY20-23; travel to Panama to participate and present at the USSEC Aquaculture Investment Workshop.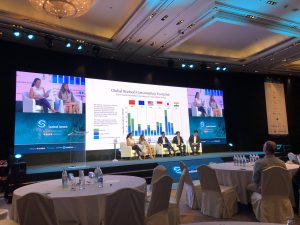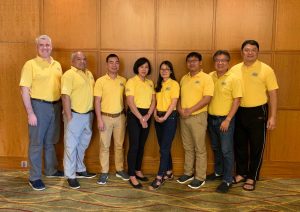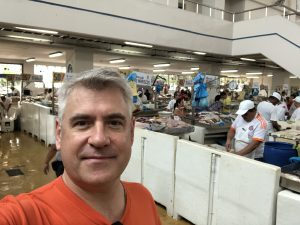 I presented at the 2018 SeaWeb conference in Barcelona and this year it was in Bangkok.  I represented USSEC at this event and made several key contacts.
I then traveled to Indonesia where we held our second FY19 Team meeting, this time with all the new TMs participating.  This was specifically to start the thought process for FY20 and beyond.
I finally traveled to Panama to speak and take part in the USSEC Aquaculture Investment Conference.  This was a good chance to meet key target audiences and to network on the all-important investment side of aquaculture.
May 2019: Worked with the USSEC VM Aquaculture Team in southern Vietnam to finalize the floating fingerling IPRS technology demonstration.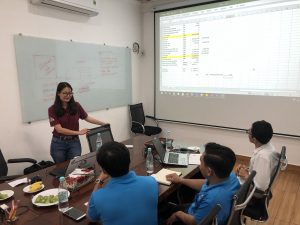 I traveled with our southern Vietnam AQ Team to meet with Proconco, who will be the IPRS demonstration cooperator.  The Missouri Soybean Association, through the Missouri Merchandising Council, will partner with Proconco and USSEC on this project.  We also identified a videographer to document this demo.
May 2019: Participated in the USSEC ATX (Asian Trade Exchange) in Bangkok, Thailand; IPRS Seminar in Bangkok, Thailand; travel to Petchaburi, Thailand to work with the fixed raceway IPRS system demonstration planning with Dr.Jesse Chappell.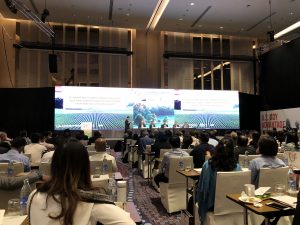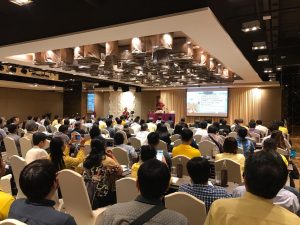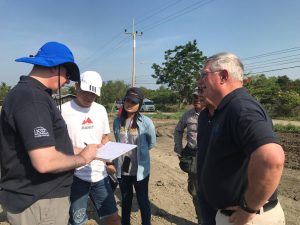 May was an unusually busy time for USSEC initiatives.  After the IAFFD workshops, USSEC SEA held a Agriculture Trade Exchange in Bangkok, with the last day USSEC SEA Aquaculture holding a (very well attended) IPRS seminar where the IPRS Fixed Raceway Standard v2.0 was presented.  After this seminar we traveled to Petchaburi to meet with our IPRS demonstration cooperator, Manit Farms, to ensure that they were planning the design and construction correctly.
April-May 2019: Led the 5th Annual USSEC IAFFD Workshops (Aquaculture Feed Formulation)in Indonesia, Vietnam, Philippines and Thailand; visit to USSEC's IPRS demonstration site in northern VM.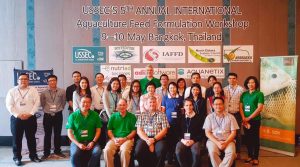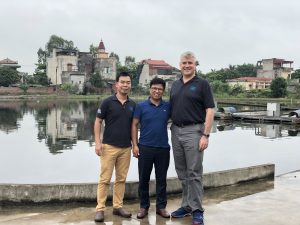 One of our important annual events for USSEC SEA Aquaculture is a series of two-day aquaculture feed formulation workshops in four key nations (Indonesia, Vietnam, Philippines and Thailand).  This year the program was led by a commercial collaborator, NutriAd/Adisseo, and brought a greater focus on commercial formulation.  During this time I also traveled to northern Vietnam to hold discussions with our USSEC demonstration cooperator on how to improve his IPRS system.
April 2029: Traveled to Singapore to train two new USSEC Aquaculture Contractors, one for Myanmar and one for southern Vietnam.  Travel to Indonesia to take part in a visit and seminars by an extrusion expert, Dr.Mian Riaz.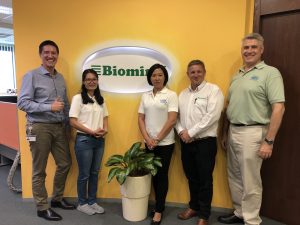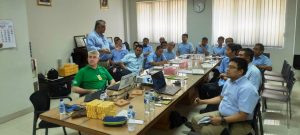 In April we formally added two additional Technical Managers (Ms.Trudy Uyen for southern/central Vietnam and Ms.Thaw Dar Htwe for Myanmar).  They came to Singapore for their first formal training.  I also took them on a meeting with Biomin, who we hope to work with on the FY20 IAFFD formulation workshop.
After the training in Singapore, I traveled to Indonesia to participate in seminars on better feed extrusion practices using Dr.Mian Riaz.
March 2019: Traveled to Indonesia to present and participate in the USSEC Shrimp Initiative with Dr.Allen Davis.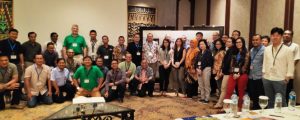 USSEC's SEA Aquaculture Program has started a more formal approach to work with the shrimp industry in SEA.  This was the first phase of the program and brought Dr.Allen Davis to speak to industry about more targeted feeds for shrimp.  We hope to move to advanced "smart" automated feed systems in Phase II.
March 2019: Attended the Seafood Expo North America in Boston, USA and meet with the Global Aquaculture Alliance at their headquarters in Portsmouth, NH.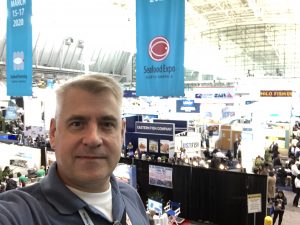 In order to do a better job on aquaculture, it is important to keep updated on the overall seafood industry.  I participated in SENA in Boston, which also had an unusually good conference this year.  After the expo I traveled to Portsmouth to the Global Aquaculture Alliance's new offices and discussed key issues related to collaboration in our SEA program and issues related to the GOAL conference planned in October.
March 2019: Traveled to Vietnam to meet with key stakeholders in the marine fish aquaculture industry (government and private industry).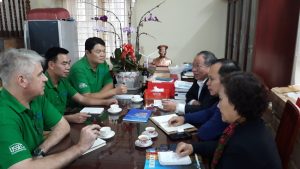 In keeping with USSEC SEA's intent to guide the industry to better marine fish production we visited northern Vietnam to discuss the best approach to offshore cage promotion.  We met with the VSA and discussed the possibility of targeting one province to promote this technology more actively (Phu Yen Province was mentioned as a good target).  We also met with government.
February 2019: Participated and spoke at the international F3 (Future of Fish Feeds) Companies Got Talent Conference in San Francisco, USA.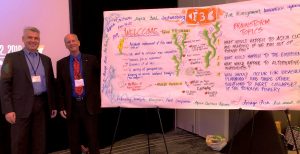 I attended and presented at the F3 (Future of Fish Feeds) Conference in San Francisco on behalf of USSEC.  This was an interesting event and took the form of a IT tech conference.
February 2019: Traveled to Kuantan, Malaysia to visit a government aquaculture park and discuss the potentials for IPRS in Malaysia.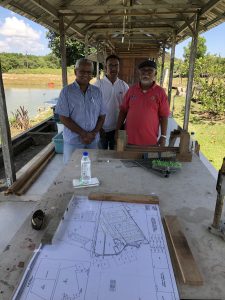 I was contacted by people interested in the IPRS technology in Malaysia.  I took a one day trip to Kuantan to meet with the interested parties and learned more about the aquaculture parks that the government is promoting in that nation.
January – February 2019: Traveled in Singapore to meet with key target audiences, followed by a visit to Philippines and Indonesia to visit marine aquaculture sites, particularly offshore cage locations.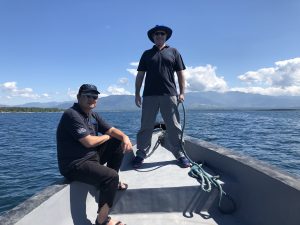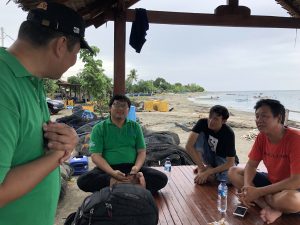 USSEC has been trying to guide the marine fish culture industry in SEA to target industrial-scale production, primarily through the adoption of offshore cage technology.  This was a visit to meet with government and industry target audiences to help move the idea forward.  We specifically identified our USSEC Offshore Cage Demonstration site in Bali, Indonesia – Bali Barramundi.  I traveled with our national TMs and the USSEC Asia Marine Specialist, Mr.Hsiang Pin Lan.
January 2019: Traveled to Myanmar to identify a new technical manager for USSEC.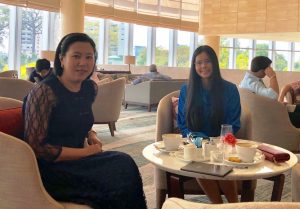 The former USSEC Myanmar Technical Manager, Dr.May Myat Noe Lwin, was promoted to the position of Country Manager.  Therefore we needed to fill the TM position.  I traveled to Myanmar to interview the potential candidate (who later took the position) Ms.Thaw Dar Htwe. This will allow us to have a more active program for Myanmar in future, with two USSEC contractors in that nation.
December 2018: Traveled in Vietnam with the new USSEC northern Vietnam Technical Manager to start the process of him taking responsibility for the USSEC Vietnam Aquaculture Program in northern/central Vietnam.
A technical expert (Dr.Bui Ngoc Thanh) was hired to focus specifically on the northern/central region of Vietnam (we plan two, co-equal TMs, one northern/central and one southern/central).  In particular this expert will need to focus on assessing and managing the USSEC IPRS program in Vietnam that has grown quickly, but not always correctly.  This trip was to introduce this contractor to some key target audiences and to allow me to continue to train him.
December 2018: USSEC SEA Team Meeting in Thailand – worked with our USSEC Team to set the program for the upcoming FY19 project year.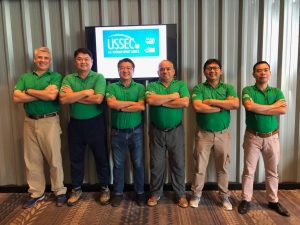 To keep the USSEC SEA Aquaculture Program running correctly it is important that regular Team meetings take place to allow us to create strategies to meet USSEC's objectives and goals, including full investment of requested funds.  This was the first meeting for FY19 that brought together most of our USSEC SEA AQ Team to discuss plans for the remainder of the year.
November 2018: Worked with other international SCA clients.
This month has primarily been devoted to making some key changes to SCA's work plan and relationship with key current and potential clients.  I also took part in the DSM Aquaculture meeting in Bangkok, Thailand.
October 2018: Traveled to the USA to participate in the Global Aquaculture Meeting in Denver.  Visit to the University of Miami's marine hatchery program.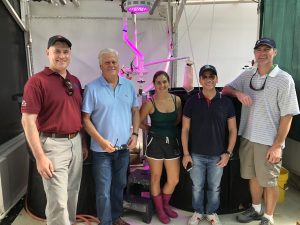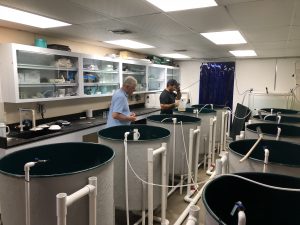 I traveled to the USA for a key USSEC Global Aquaculture Team meeting in Denver and then took the opportunity to travel to Miami to meet with Dr.Dan Benetti to discuss whether there might be any opportunities to collaborate together to help the SEA marine fish hatchery industry to dramatically expand and improve.
October 2018: First IPRS seminar in Thailand, IPRS Farmers Field Day in Vietnam and Filming of IPRS technology with the Global Aquaculture Alliance (GAA).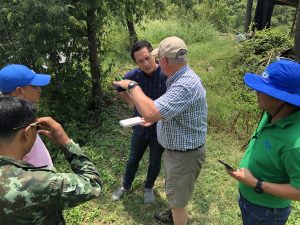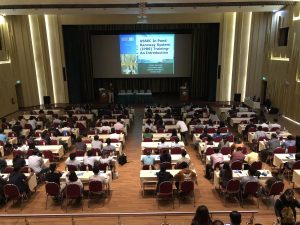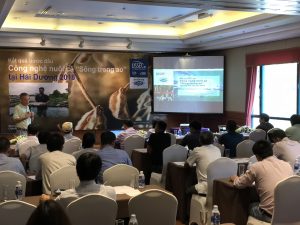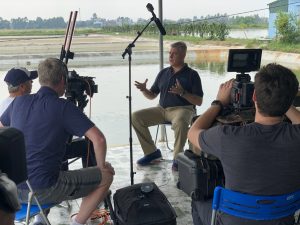 October saw a further focus on IPRS technology with the first formal expansion of the program in SEA from Vietnam to Thailand, with visits to local stakeholders interested in the technology and the first IPRS seminar (held at the Asian Institute of Technology).
In Vietnam we had a Farmers Field Day to discuss the progress to date of a demonstration at our Gold Standard project site in Hai Duong.  We then led a film crew from GAA to create two videos, one for an IPRS training and the other on water use (and sustainability) in aquaculture.
September 2018: Participated in two conferences; 2nd Annual Bangus Conference in Iloilo, Philippines and spoke at the USSEC-sponsored 10th Annual Regional Aquafeeds Forum held in Ha Noi, Vietnam.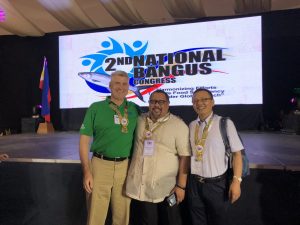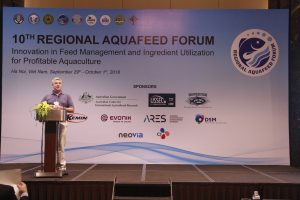 Several key events were happening in September that I took part in.  The first was in Philippines where the future direction of milkfish (bangus) culture may be heading.  The second was a USSEC-sponsored event, the 10th Regional Aquafeed Forum (RAF10), where I gave a presentation on advanced formulation and the IAFFD.
August-September 2018: Participated in the WAS AQUA 2018 meeting in France, primarily to meet with key experts from Sub-Saharan Africa. Then traveled to Ghana and Zambia to meet with industry stakeholders to start pre-planning for a potential future program in the region.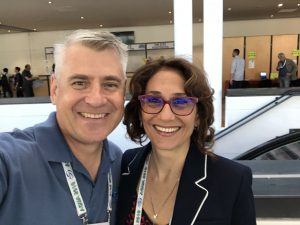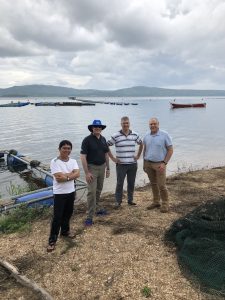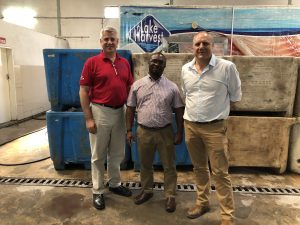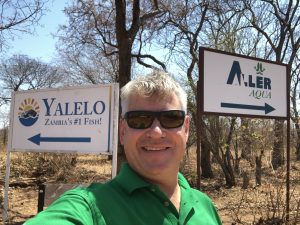 As the lead of the USSEC Sub-Saharan Aquaculture (SSA) Initiative I traveled to Montpelier, France to attend the AQUA2018 event and then onto Ghana and Zambia.  At AQUA2018 my primary focus was to meet with key SSA stakeholders, as many traveled to France to take part in this event.  I then traveled with Mr.Lourens de Wet, the lead contractor on our SSA regional team in Ghana and Zambia.  The intent was to determine the situation for feed-based aquaculture in SSA for a possible future program.
August 2018: Guided a team from the Missouri Soybean Association (MOSOY) to visit the In Pond Raceway System (IPRS) demonstration in northern Vietnam.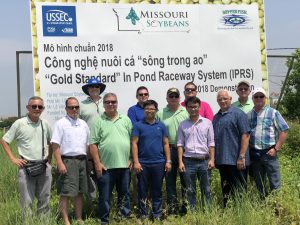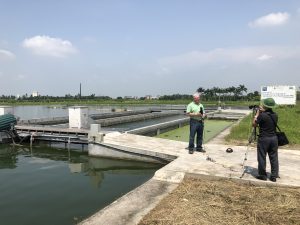 USSEC has been working with the pond-based aquaculture industry to promote a more efficient and higher yielding (volume and profit) technology, called In Pond Raceway Systems (IPRS) technology.  Internationally this was first promoted in China, followed by Vietnam.  In Vietnam the Missouri Soybean Board (MOSOY) helped to fund a demonstration unit of two cells at the farm of Mr.Le Van Viet in Hai Duong.  This was the first time MOSOY had sent a team to inspect the project and they were also interviewed on local media.
July 2018: Traveled to USSEC Implementation Meeting in Chiang Mai, Thailand.
I traveled to Chiang Mai to meet with the USSEC Southeast Asia Regional Team to create a strategy for promotion of US soy through aquaculture in the coming months.
July 2018: As the USSEC Sub-Saharan Africa Initiative Lead identified a regional contractor team to prepare an investigative report about the aquaculture and aquafeed industries in Sub-Saharan Africa.

One of the areas that does not yet have a regional aquaculture team for USSEC is Sub-Saharan Africa (SSA).  I was contracted to lead the SSA Initiative and identified and hired a team to help put together a comprehensive picture and report about this region.  Specifically we were trying to gauge the true picture of the aquaculture industry in this region and what the short- to medium-term prospects were for further development of the industry, including aquafeeds.  This month was primarily to identify and hire the team and make a plan of work in the next several months to gather information and create the report.
June 2018: Participated on a panel at the SeaWeb Seafood Summit in Barcelona.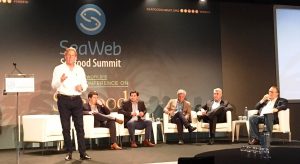 I was asked to participate in the SeaWeb Seafood Summit in Barcelona, Spain, where I discussed "Shaping a Sustainable Future for Aquaculture Feeds" in a panel discussion format.  My presentation topic was about "FEED INGREDIENTS – WHEN TOO MANY "SOLUTIONS" LEADS TO CONFUSION".  This panel discussion was well-attended and had significant time for audience interaction and questions, and I believe helped to inform and educate an audience that wasn't always very familiar with issues of seafood produced through aquaculture.
June 2018: IAFFD Workshops in SEA.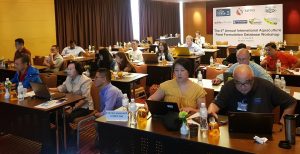 We continue to improve the International Aquaculture Feed Formulation Database (IAFFD, www.iaffd.com) to help increase the number and abilities of aquaculture feed formulators.  We again held workshops in four regional key cities in SEA (Bangkok, HCMC, Manila and Jakarta) and this year added participants from the Global USSEC Team to allow them to gain experience to expand the program globally.  For SEA in FY19 we expect to have a more targeted event focusing more on the formulators with exercises to overcome key issues in aquafeeds.
May 2018: SEA Marine Fish Stakeholder Tour to Greece.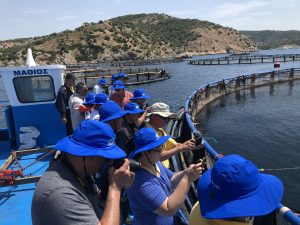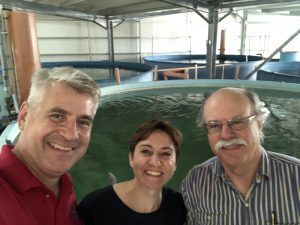 In order to better educate local SEA marine fish stakeholders in what a future offshore cage aquaculture industry would look like (and the key issues that they should pay attention to), we brought 10 stakeholders to visit the offshore industry in Greece.   This included visits to different sized offshore cage production units, hatcheries, feedmills, processing plants and essentially all parts of the production chain.
May 2018: Offshore Mariculture Conference in Singapore.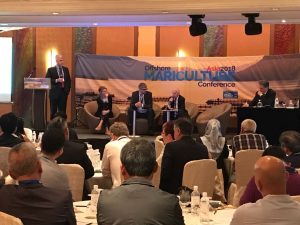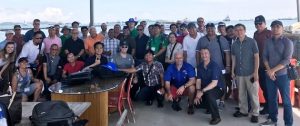 For the first time the Offshore Mariculture Conference was held in Southeast Asia, with USSEC as a major sponsor and organizer.  It was felt that this was the right time to start the paradigm change for SEA marine fish aquaculture to encourage a truly offshore, industrialized industry to develop.  I was the co-chair for this event with Dr.Alessandro Lovatelli (FAO) and it was a high impact, comprehensive event geared toward moving the marine fish culture industry forward in this dynamic region.
April 2018: Participated in the Global Seafood Expo in Brussels, Belgium.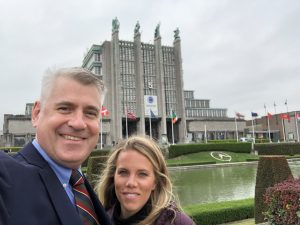 Understanding the current trends and products in seafood is an important part of aquaculture.  Though people are used to thinking in terms of wild catch at these events, aquaculture is becoming more and more an integral part of these events.  I try to come to the three major seafood events (North American, Global and China Seafood Shows) every few years to keep updated.  This is also a good venue to meet with several seafood and aquaculture-related organizations such as the BAP and ASC.  We held meetings with these organizations as well as service providers like Aquanetix.
March 2018: Participated in the VICTAM show in Bangkok, Thailand.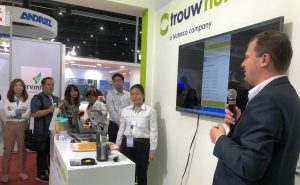 VICTAM and VIV are two important meetings for the feed industry that happen in Bangkok on a rotating two year basis (this year was VICTAM, next year is VIV).  This is the meeting for learning more about feed equipment and support services, and an important event to be able to meet with various suppliers in one place.
March 2018: Start of USSEC SEA's shrimp-focused initiative.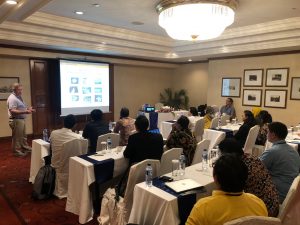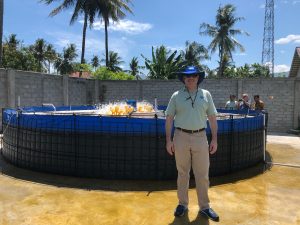 The USSEC SEA Aquaculture Program has traditionally focused primarily on fish aquaculture as this is where the bulk of feeds is used.  USSEC can also be much more comprehensive in its approach with fish farmers, working along the entire production chain (from broodstock to final market).  The shrimp industry has seemed less open to this type of approach, but we felt it important to have a more aggressive shrimp initiative.  This has now started with a focus on shrimp feeds and feeding approaches.  This trip to Indonesia, Thailand and Vietnam will feature presentations from Dr.Allen Davis of Auburn University and representatives of AQ1 (a sound-based automatic feeding system).  We also visited super-intensive shrimp operations to better understand the technology approaches being used.
March 2018: IPRS demonstration start in Vietnam.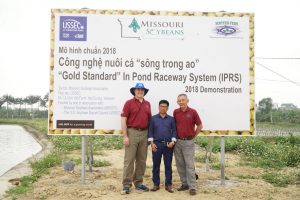 Originally we were to lead a team from the Missouri Soybean Association (MOSOY) to this demonstration that their association is funding.  They were unable to attend due to unforeseen circumstances, but I traveled to Vietnam with our USSEC Vietnam Technical Manager, Mr. Vo Hoang Nguyen, and conduct further training on IPRS and work to get them on the Aquanetix data management system.
March 2018: Boston Seafood Show /Seafood Expo North America.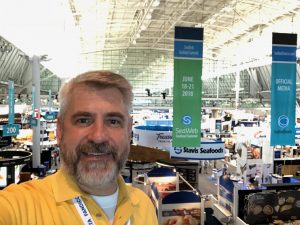 The market is the most important aspect of seafood production, whether wild-caught or farmed.  There are three main seafood shows yearly, the Seafood Expo North America (SENA), Global Seafood Expo (Brussels) and the China Seafood Show.  I was able to participate in SENA this year and have key discussions with primary stakeholders.
February 2018: Visited Myanmar to interview potential new staff, evaluate a demonstration site and attend the opening of Trouw's new premix factory.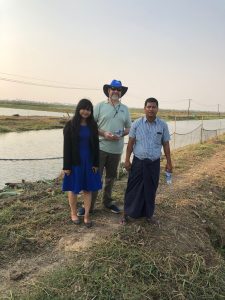 USSEC has had a strong aquaculture program in Myanmar since 2011 and as our former Technical Manager, Dr. May Myat Noe Lwin has been promoted to Country Manager for USSEC we need to identify a new contractor to provide technical support to our program.  To the left is Ms. Ei Myat Noe Khin who will likely take that role.  I also visited the planned demonstration site in Myanmar at the Shwe Pyae Sone Co.Ltd. Farm, outside Yangon.  This will be a comparsion demonstration using two feeds and growing tilapia.  This cooperator hopes to eventually have the volume to brand their product and look towards export markets.  Finally I attended the opening of Trouw Nutrition's new premix factory.
February 2018: Took part in the opening of 88 Group's new processing and cold storage plant in Thailand.
USSEC has worked for some time with the 88 Group in Thailand to better understand marine fish hatcheries, work on feed issues and generally to cooperate on key issues impacting the marine fish industry in Thailand and in SEA in general.  At the opening of their new processing and cold storage plant I was one of only two outside speakers asked to speak at the event.
February 2018: Visit to SEA by Mr.Mark Newman, USSEC's Feed Specialist.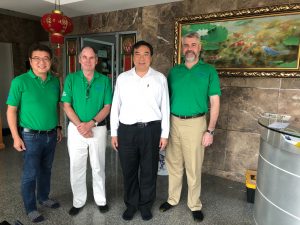 Every year we bring in a feed and nutrition specialist to SEA, Mr.Mark Newman.  He travels to our key target nations and meets with industry people (particularly feedmills) to conduct seminars and in-house events.  He also works on formulations to be used for our demonstration projects.  In the photo above we have just met with the 88 Group after discussing two test formulations.  To the left is USSEC's new Thailand Technical Manager, Mr.Chuchai Kanjanamayoon.
January 2018: USSEC SEA Aquaculture Team meeting in northern Vietnam and visits to the USSEC/MOSOY "Gold Standard" In Pond Raceway System (IPRS).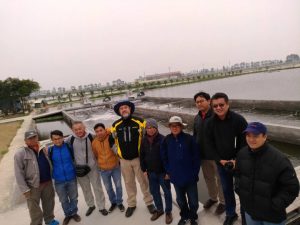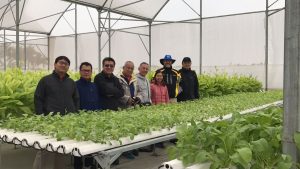 In order to have a more smoothly functioning aquaculture program we bring together the USSEC SEA Aquaculture Team to have meetings, technical presentations and industry site visits.  This year we had call-ins from Aquanetix, the Global Aquaculture Alliance, and the organizers of the Offshore Mariculture Conference.  We also visited several sites, including a new aquaponics system that is linked to an IPRS system.
January 2018: Participated in the USSEC Aquaculture Educational Opportunity in Campeche, Mexico.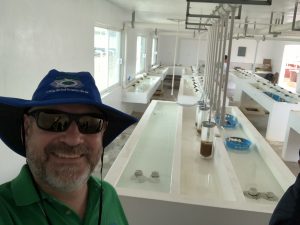 USSEC has been holding "Aquaculture Educational Opportunities" for the past few years to better educate and inform the primary funders of USSEC – the US soybean farmers.  This year this took place in Campeche and included industry visits to the tilapia industry.
December 2017: Traveled to the USA and held meetings at Auburn University and with the Global Aquaculture Alliance.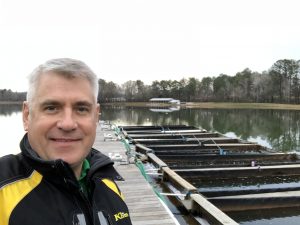 While in the USA I took the opportunity to visit Auburn University in Alabama and to meet with the Global Aquaculture Alliance at their headquarters in New Hampshire.  The intent is to bring a group from SEA to AU to learn more about the floating IPRS systems and how they are designed and operated.  With GAA we hope to partner to better inform and educate the SEA industry in the importance and role of aquaculture certification.  In particular we want to see the entire industry at least aware of what is needed so that this is put into their forward planning, particularly for those looking to export product.
November-December 2017: Start of FY18 for USSEC with planned visits to Indonesia, Philippines, Singapore and Vietnam to work with key staff and contractors.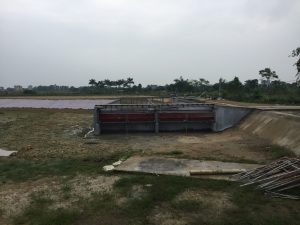 I traveled through all of USSEC's target nations with Technical Managers to help to guide the program as we move into the FY18 project year.  Of particular importance were the IPRS effort in Vietnam and speaking to feedmills about their formulation and ingredient purchasing issues.
October 2017: Hosted a workshop "Introduction to Nutritional and Statistical Modeling for Commercial Aquaculture Nutritionists" in Thailand.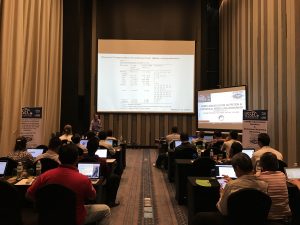 We have noted that there are issues in the SEA aquaculture industry both with data collection and analysis of that data.  This workshop was created to start the process of getting the industry to try to use data more effectively to determine the quality and efficiency of aquaculture production, particularly as related to feed.
October 2017: Attended the GAA GOAL Conference in Dublin, Ireland.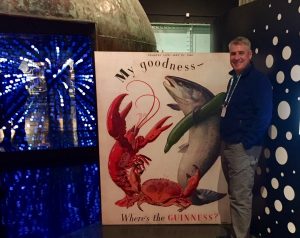 I attended the 2017 Global Aquaculture Alliance's GOAL meeting in Dublin, Ireland.  This allowed meetings with high level aquaculture and seafood stakeholders in both formal and informal settings.  Meetings like this differ from other aquaculture events because they are targeted to top level issues and to bring together those that can have an impact on those issues.
September 2017: Traveled to Nebraska and Illinois to bring a stakeholder group from Southeast Asian aquaculture to see the US soy complex.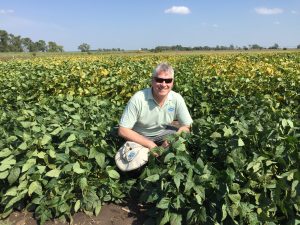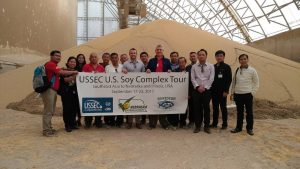 We brought a group of 10 key SEA aquaculture feed stakeholders and six USSEC aquaculture contractors to visit the US soy complex.  This included:
Visits to soybean farms (in particular Mr.Gregg Fujan's farm in Nebraska)
Grain elevators (in Prague, NE, at the Delong facility in Joiliet and the Leland Coop in Illinois)
Containerization facilities (Gavilon, Delong and Leland)
Transport facilities (truck, rail, barge)
Research centers (two locations in cooperation with the University of Nebraska)
Soy exporter visits (Gavilon, AGP, Scoular, Leland Coop)
Visits to the Chicago Board of Trade (CBOT) and education on ingredient risk management strategies (USA Trading)
This travel schedule in Nebraska, Iowa and Illinois allowed USSEC to highlight both the ingredient and nutrient values that make US soy products preferred soy internationally.  The US soy industry strongly supported this visit, and the participants indicated that they were very impressed to see how the US researches, produces, transports and trades soy.  Initial discussions occurred with some of the soy trading firms between the participants and sales teams on soy purchases – primarily container shipments which are the most flexible way for buyers from aquaculture feedmills to directly access US soy products.
September 2017: Visited the offshore cage mariculture industry in Greece.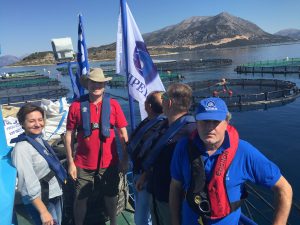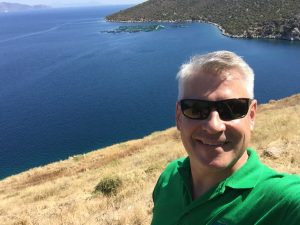 I traveled to Greece with Mr.Patrick White and Ms.Stella Adamidou to investigate the Greek offshore mariculture industry for a potential FY18 USSEC Stakeholder Trip.  This was an intense travel schedule prepared by Ms.Adamidou (of Aquanetix), which had us travel through Kefalonia, Nafpaktos, Astakos, Athens and Salamina.  This was a chance to see much of the marine fish aquaculture production chain from broodstock until final consumer, including feedmills and equipment and consulting firms.  An FY18 Team Trip is planned for April or May of next year.
August 2017: Traveled to Singapore and Myanmar for USSEC activities.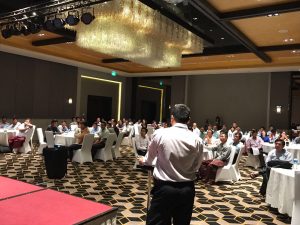 I traveled to Singapore to meet with regional staff and then traveled to Myanmar where we held a Farmers Field Day event.  This FFD was to highlight the results of the recently completed tilapia demonstration, to have a discussion about the experience of the group of Myanmar tilapia hatchery stakeholders at the AIT Hatchery Tilapia Training in Bangkok, Thailand, and to have a presentation from Mr.Louis Win of High Liner Foods (HLF) on how the Myanmar tilapia industry should approach reconstituting the export tilapia industry in Myanmar.  There were also presentations from the demonstration farmer and the local seafood processors.
July 2017: Traveled in the United States to present at the Kentucky Soybean Board Meeting.
I traveled to Kentucky to present to the Kentucky Soybean Board's annual meeting with Mr.William McNair from USSEC's St.Louis office.  This was an opportunity to update the KSB about the situation for soy and grains in Southeast Asia and how USSEC has leveraged the support from the KSB in SEA.
June 2017: Attended the World Aquaculture Conference in Cape Town, South Africa.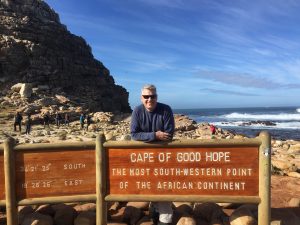 I traveled to South Africa with two key objectives.  The first was to present at the World Aquaculture Conference on the IAFFD – this was particularly important as the aquaculture feed industry is just developing in sub-Saharan Africa.  I also went as a representative of USSEC to determine if the sub-Saharan region might be ready for a limited USSEC aquaculture program.  USSEC technologies have been discussed in the region, particularly by staff from Auburn University, but we felt it might be time for a closer look with a short term project/activity in the near future.  It seems that this may be the case and we have a short list of the target nations and some possible key contractors already.
June 2017: USSEC Aquaculture Formulation Workshops "3rd Annual International Aquaculture Feed Formulation Database Workshop" in Indonesia, Philippines, Thailand and Vietnam.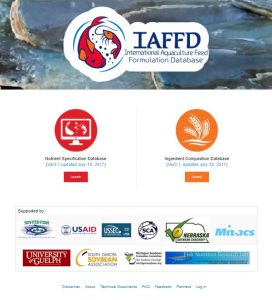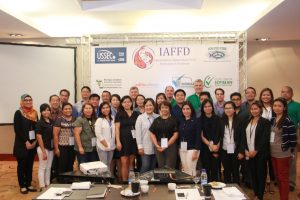 With a variety of partners, including USSEC, SCA, USAID, MITACS, Adifo and others, the first standardized, commercially-oriented aquaculture feed formulation database, the International Aquaculture Feed Formulation Database (IAFFD) has continued to be developed and used with group training workshops.  Now in Stage III, the IAFFD has matured into a powerful tool to work with aquaculture feed formulators.  Comprising 28 different species groups and over 460 ingredients, the IAFFD allows the training of large groups of aquaculture formulators on a common feed formulation program using a common feed formulation database.  This allows more advanced workshops to help aquaculture formulators find better ways to create formulations that will be profitable, efficient and sustainable.  In particular it also helps to move aquaculture formulation from an ingredient-based approach to formulation to a nutrient-based approach.  The IAFFD still is the only known comprehensive, publicly available aquaculture feed formulation database that exists.
May 2017: Presented at the 2nd National Aquaculture Summit "Unity in Diversity: Developing Philippine Aquaculture Competitiveness" in Philippines.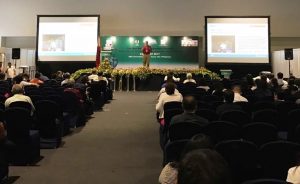 Key players in the Philippine aquaculture industry asked me to participate in their annual Aquaculture Summit to discuss a very specific  topic: "15 YEARS OF OBSERVING PHILIPPINE AQUACULTURE: WHY THE PHILIPPINES IS NOT YET A MAJOR AQUACULTURE EXPORTING NATION?".  It was felt with over 80 trips to the Philippines and travel to almost all of the major production areas that I might have some good insights on why the Philippine is still almost exclusively a domestic aquaculture producer.
May 2017: USSEC SEA Aqua Team meeting and industry support in Nha Trang, Vietnam.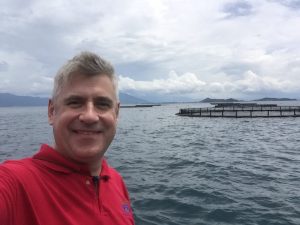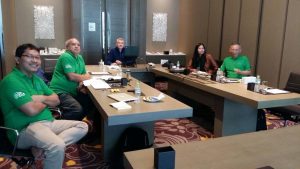 We bring our USSEC Southeast Asian Aquaculture Team together on a biennial basis to allow us to ensure proper investment of the US Soybean Farmer funding and to have an opportunity to learn from a key industry.  In this case the education event was a visit with Australis Aquaculture, an offshore cage barramudi farming operation (that is partially vertically integrated with hatchery, nursery and processing).  This was a good example of one of the few currently successful offshore cage operations in SEA, and a great example of the future potentials of the region.
May 2017: Marine fish marketing seminars "Development of a Sustainable, High Volume, Export-Focused Marine Fish Aquaculture Sector in Southeast Asia"in Indonesia, Malaysia, Philippines and Vietnam.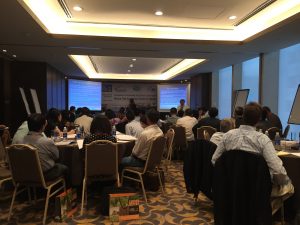 The marine fish aquaculture sector in Southeast Asia seems to behind the rest of the world in the adoption of higher volume, industrial scale marine fish production, particularly when it comes to offshore cage aquaculture.  This could be a good thing, as when the industry does change, it will learn from the lessons of other areas.  However, if no planning is in place how to sell the higher volume of fish produced from such operations, the likelihood is that the first thing that will happen is that the domestic and regional market prices will crash.  This workshop series was to help work with the various stakeholders in the marine fish industries in Malaysia, Indonesia, Vietnam and the Philippines (including an international buyer) on what they need to do to prepare for marketing marine fish to export (extra-regional) markets.  This type of planning needs to take place before production plans are in place so we don't see a repeat of the mistake where the product can be produced but the market has not been identified or developed.
April 2017: Traveled to northern Vietnam to discuss the "gold standard" In Pond Raceway System (IPRS) demonstration and meet with key stakeholders, including the VSA to discuss the upcoming marine fish workshop.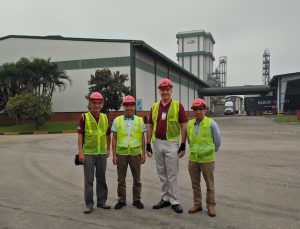 April proved to be a very busy month administratively, but there was still an opportunity to travel to northern Vietnam for some key work with two stakeholders.  Cargill is working with USSEC on promotion of the IPRS technology and VSA (Vietnam Seaproducers Association) is a cosponsor of the USSEC marine fish workshop to be held in May in HCMC, Vietnam.
March 2017: Traveled to Boston, USA to serve in the USSEC Aquaculture Advisory Council and attend the Seafood Expo North America in Boston,  USA.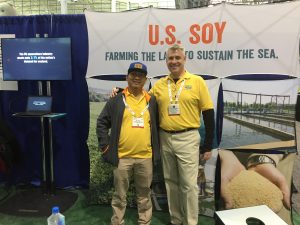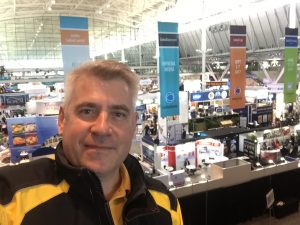 There were two major activities that took place in Boston.  The first was an annual Aquaculture Advisory Council meeting for USSEC which brings together key people from industry to try to identify important trends to pay attention to.  USSEC has always been good at identifying issues "ahead of the curve" and this is part of that effort.
The second major activity was to attend SENA 2017.  Aside from giving good insight into the North American seafood market, it was also a chance to meet with potential speakers and stakeholders that will be a part of May's marine fish marketing seminars "Development of a Sustainable, High Volume, Export-Focused Marine Fish Aquaculture Sector in Southeast Asia"in Indonesia, Malaysia, Philippines and Vietnam.
February 2017: Feedmill technical servicing in Southeast Asia, meetings with industry groups and discussions about demonstration (and other) projects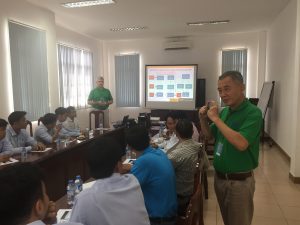 This February our USSEC Feedmill Specialist, Mr.Mark Newman, was in Southeast Asia.  I traveled with Mark in both Vietnam and Indonesia where we met with key feedmills, particularly those that are collaborating with us on demonstrations or are key targets for U.S. soy products.
I also met with three of our four Technical Managers (TMs) and our Asia Marine Specialist to discuss how the FY17 program is coming along, and particularly about demonstration projects, the Marine Fish Marketing Workshop, our marine fish hatchery program and the upcoming IAFFD workshop.  This required additional travel to the Philippines, Thailand and Singapore.
January 2017: Traveled to Panama City, Panama to participate in a Industry Educational Opportunity with US soy farmers and to visit key aquaculture industry sites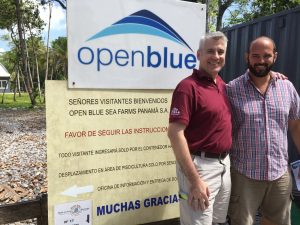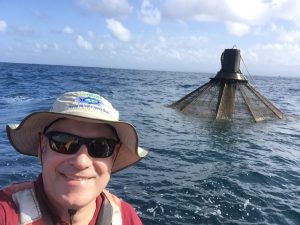 The primary purpose of this travel was to take part in an Aquaculture Education Opportunity event for U.S. soy farmer Grower Leaders.  This was a chance to share information on a global basis for the lead USSEC aquaculture contractors.
Additionally, this was an opportunity to visit the OpenBlue offshore cage operations in Panama (with OpenBlue's founder, Mr.Brian O'Hanlon).  They are targeting about 2,500MT of cobia in 2017, and selling to target markets internationally.
January 2017: Traveled to northern Vietnam to work with Dr.Jesse Chappell and Mr.Vo Hoang Nguyen to create training programs on In Pond Raceway Aquaculture (IPRS, high tech raceway systems) to commercial industry and government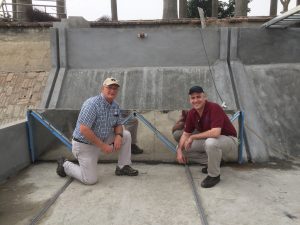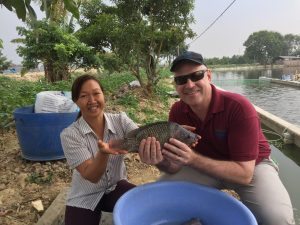 Based on the trip in November, it was determined that we needed to do a better assessment of the IPRS rollout in northern Vietnam.  In addition we also determined that we needed better training materials to inform and educate the industry.  I was able to participate in the development of these materials as well as the first use of them in front of a feedmill sales and technical audience.
November-December 2016: Traveled to northern Vietnam to work on planning for the In Pond Raceway Aquaculture (IPRS, high tech raceway systems) and to Philippines to meet with industry organizations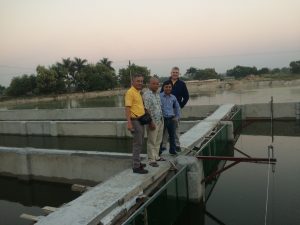 In preparation for the FY17 WorldWide program on the In Pond Raceway Aquaculture technology (IPRS, formerly known as IPA) in Vietnam I traveled to northern Vietnam to see the progress of the USSEC VM program.  It was clear that the Vietnamese industry was very excited by this new approach, as we visited several units either functioning or under construction.  Based on this we are going to quickly bring in our IPRS expert, Dr.Jesse Chappell, in January to conducted targeted training programs.
I also traveled to Philippines where I met with representatives of two industry associations, one for aquaculture products and production and the other for aquaculture feedmilling.
November 2016: USSEC SEA Aqua Team Staff meeting and industry technical servicing in Sihanoukville, Cambodia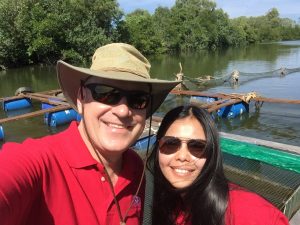 To summarize the FY16 project year and to plan and prepare for the FY17 and FY18 project years the USSEC SEA Aqua Team met in Sihanoukville, Cambodia where USSEC has had an active program with the MARDeC marine fish hatchery.  Aside from internal meetings we also toured various marine fish industry sites and gave a presentation to MARDeC staff and local farmers.
October 2016: Traveled with a U.S. Soy Grower Leader group in Ecuador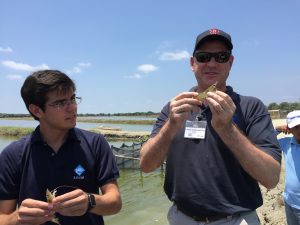 As part of the USSEC Aquaculture Program Global Team, and the key technical contractor, I was asked to accompany a group of U.S. soybean farmers and aquaculture consultants to visit the Ecuadorian aquaculture industry, primarily the shrimp, tilapia and feedmill industries.  This was also an opportunity to visit the annual AquaExpo event held during this time.  We were able to see some of the cutting edge approaches the industry here is using with shrimp such as water recirculation and shrimp automated feeding (AQ1 systems) in particular.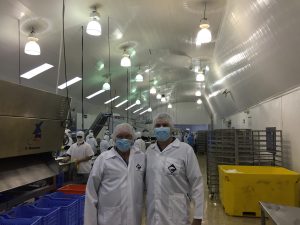 October 2016: Led a Southeast Asian Marine Fish Stakeholder group to Malta and Italy to tour the offshore cage industry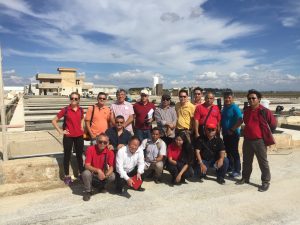 As part of the drive to guide the Southeast Asian aquaculture industry to move to more industrial approaches, I helped to lead a team of SEA marine fish farmers to visit the industrial offshore cage marine fish farming industry in Malta and Italy (specifically Sicily).  The intent is to encourage the industry in SEA to move to an industrial, export model.  We are starting to see this happening, but trips like this (and previous ones to Turkey and Norway) help to show SEA stakeholders that this is a reality, not just a concept.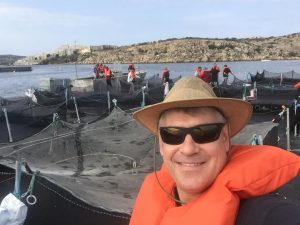 September 2016: Presented on the AAFFD (now IAFFD) at the Progressus Aquaculture Nutrition AgriSchool in Kamphaeng Saen, Thailand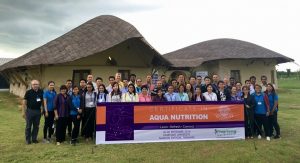 USSEC provides technical servicing to the aquaculture industry in Southeast Asia, and as part of that servicing we do a lot of work with feedmills.  However, aquaculture feed specialists are few and far between and we helped to collaborate to encourage commercial industry to develop shortcourses on the topic of aquaculture nutrition.  At this event I also had a chance to speak on the International Aquaculture Feed Formulation Database (IAFFD, formerly the AAFFD) and work with some formulators to try out basic formulation exercises.
September 2016: Workshops on Aquaculture Nutrition using the Asian Aquaculture Feed Formulation Database (AAFFD)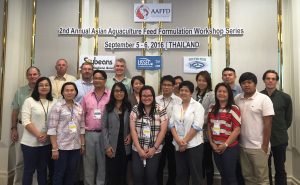 USSEC is part of a consortium that has helped to develop the first standardized aquaculture feed formulation database, the Asian Aquaculture Feed Formulation Database (AAFFD) now in Stage II development.  This database can be found at www.asianaquafeeddatabase.com and is a valuable resource to aquaculture feed formulators.  Four, two-day workshops were held in Bangkok, Manila, Ho Chi Minh City and Jakarta with both seminars and hands-on formulation exercises.
August 2016: Seminar on Broodstock nutrition and Biosecurity in Thailand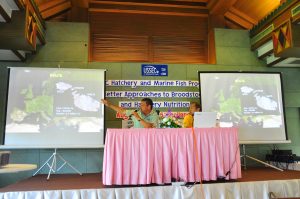 An important issue in Southeast Asian marine fish hatcheries is the use of fresh seafood for feeding and maintaining broodstock.  This is an important disease vector for parasites, bacteria and viruses.  We brought Dr.Robert Vassallo Agius from Malta to discuss the advantages and approaches for using formulated feeds for broodstock for bioescurity and better conditioning.
July 2016: Regional USSEC Aquaculture Team meeting in Philippines and attend the United Soybean Board Annual Meeting in Minneapolis, USA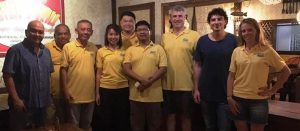 Our key personnel in Southeast Asia, along with researcher Dr.Igor Pirozzi (who is the Principal Investigator for a USSEC supported multi-year grouper project), met in Coron, Philippines for meetings and to visit the facilities of Palawan Aquaculture Corporation (PAC), who run a grouper hatchery and growout operation.
I also traveled to Minneapolis, Minnesota, USA to participate in the USB Annual Board Meeting.  I represented the USSEC Southeast Asia office and had an opportunity to discuss the aquaculture program specifically.
May-June 2016: Traveled to Philippines to discuss offshore cage farming and visit key stakeholders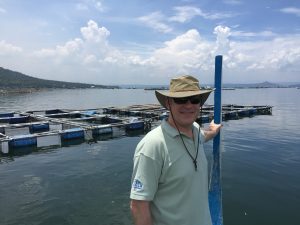 Demonstration projects are being conducted throughout SEA.  During this trip we met with a key stakeholder to discuss marine fish offshore cage farming, and also visited Lake Taal to inspect the preparations for a very important demonstration that will look at tilapia fed fishmeal free diets, diets with 3% fishmeal and a commercial diet.
May 2016: Visited the USSEC Offshore Cage Demonstration in Singapore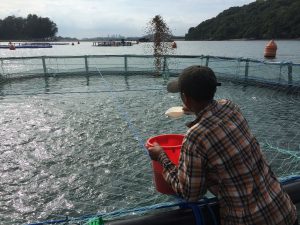 The FY16 Offshore Cage Demonstration near St.John's Island off of Singapore has been initiated and four finger threadfin have been stocked.  Soybean Protein Concentrate from United States origin soybeans are being used in a sinking, extruded feed for this demonstration.
May 2016: Traveled to Malta for an investigative tour of the offshore industry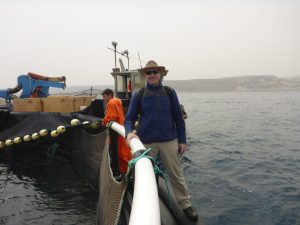 We had originally planned to bring a team from Southeast Asia to Izmir, Turkey in May to see the advanced offshore industry there.  However, due to the deteriorating security situation there we had to cancel that trip.  Therefore, after some discussion, we decided to investigate the Malta offshore industry as a suitable replacement.  Although smaller, it was determined that we could still showcase much of the same ideas and principles in Malta that we would have seen in Turkey.  However, when we conduct this trip (not planned in October), we will also need to travel to Italy to see the industrial hatchery industry there.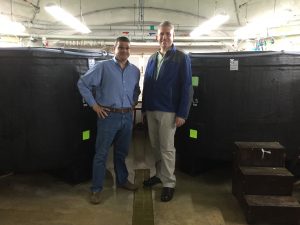 April 2016: Met with FAO staff in Rome and presented at the Offshore Mariculture in Barcelona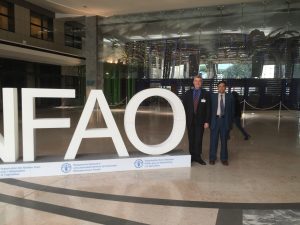 The intent of my meeting with FAO was to investigate whether the USSEC and FAO could find areas of common ground to work together and to generally learn more about what FAO is doing in the field of aquaculture.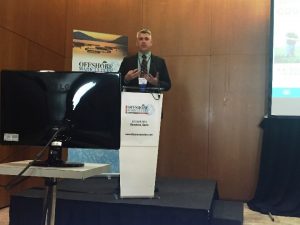 I presented at the World Mariculture Conference on the topic of "Southeast Asia – preparing for investment in offshore cage production".  This was a good forum to speak on this subject as Europe has arguably the most advanced cage culture industry in the world.  This also included tours to the MERCABARNA and IRTA (wholesale seafood market and Spanish aquaculture research center).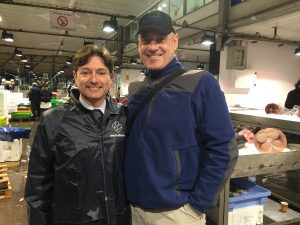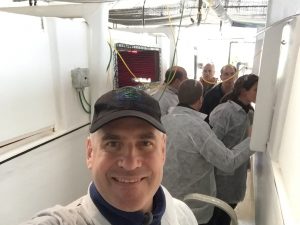 March 2016: Technical servicing to the Southeast Asian feedmill industry and VIV Asia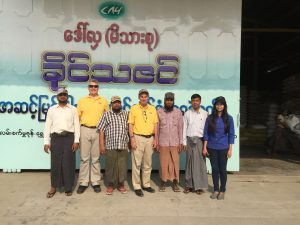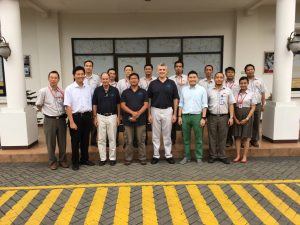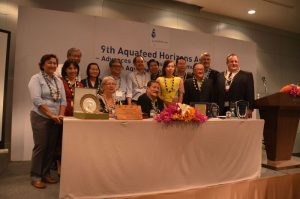 March was a fairly busy month with travel with the USSEC Feedmill Specialist through Thailand, Myanmar, Indonesia and Vietnam.  I also was present to give a recognition award on USSEC's behalf to Dr.Warren Dominy at the VIV Asia show.
March 2016: Participated in the North American Seafood Show in Boston, USA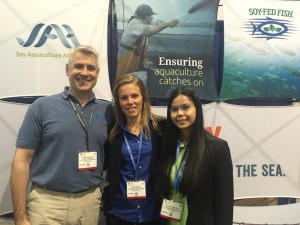 I traveled to the United States to participate in the North American Seafood Show in Boston, and also attended some of the associated conference.  Part of my goal was to meet and discuss with seafood buyers to see if any might be interested and willing to come to Southeast Asia to talk to the marine fish industry and "educate" them on what will need to be done if the industry is to target export markets for marine fish.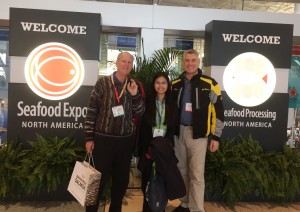 February 2016: Technical visit to the Palawan Aquaculture Corporation's grouper production facilities in Coron, Philippines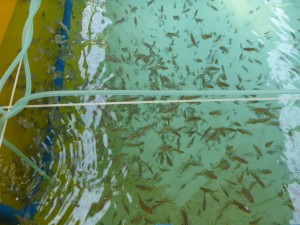 Palawan Aquaculture Corporation (PAC) is a leading grouper production facility located in the clean waters off of Palawan.  They have an extensive operation that has hatchery, nursery, production and packing units.  The production in particular is of interest as it is offshore and well-managed.  The hatchery produces mouse/humpback/panther (Cromileptes altivelis) grouper and red coral trout (Plectropomus leopardus).  We met with the technical staff to discuss improved hatchery operation approaches and other technical issues.
January 2016: Traveled to Mexico to present and take part in an "Aquaculture Education Opportunity"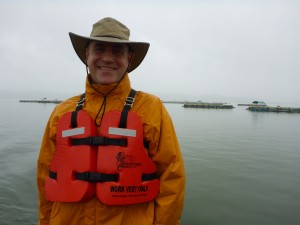 USSEC has a global program of technical servicing and research in the aquaculture field.  This was a meeting that allowed us to meet with our key funding agencies, research associates and global technical staff to discuss the overall status of the aquaculture industry and learn what research has discovered to help that industry move to a feed-based one.  We also had a chance to travel to the Regal Springs tilapia operations nearby.
December 2015: Conducted a "Farmers Field Day" in Thai Binh Province, northern Vietnam with marine fish farmers and visit to snakehead operations in An Giang Province, southern Vietnam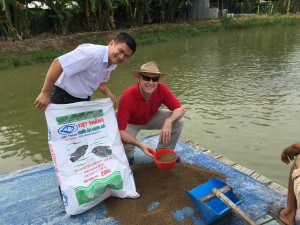 We regularly conduct demonstration projects to directly show the benefits of using better, feed-based technologies.  In this case we were visiting an Asian sea bass (Lates calcarifer) production area in Thai Binh Province in northern Vietnam that uses ponds for production of marine fish.  When we first came to this area, farmers were exclusively using so-called "trashfish" to feed their production fish.  We were able to convert the industry to a formulated feed based approach, at least for the first half of production to 400g size.
We also visited snakehead (Channa striata) operations in An Giang, southern Vietnam in preparation to bring a group from India to show them how feeds can be used to produce this high value species.
November 2015: Traveled to identify a potential offshore demonstration site in Singapore and meetings with key collaborators in Indonesia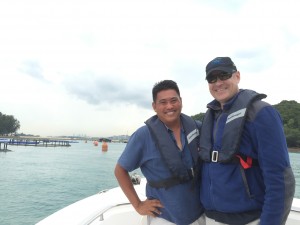 As part of our FY16 activities we plan to conduct a demonstration using an offshore cage site and US soybean protein concentrate optimized, extruded sinking feed for Asian sea bass.  The likely target of this will be the MarineLife Aquaculture offshore site in Singapore for several reasons, including a long collaboration to date, good quality fish fingerlings and attention to detail.  It will also be convenient to visit as the USSEC SEA regional office is located in Singapore.  The target species will be for finger threadfin (Eleutheronema tetradactylum) in offshore, circular HDPE cages using a USSEC formulated feed.
I also met with representatives of ABILINDO, the Indonesian marine aquaculture organization and GPMT, the Indonesian Feedmill Association, to discuss what USSEC has been doing in the past 13 years specific to Southeast Asian and Indonesian aquaculture.  We hope to work much more closely with both organizations in future.
November 2015: USSEC Southeast Asia Aquaculture Team Staff Meeting in Kaohsiung, Taiwan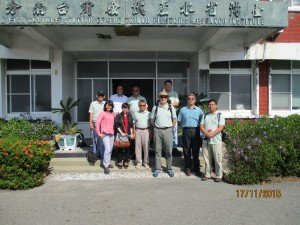 The primary client of SCA is the USSEC, and I lead the regional Southeast Asian team for USSEC.  We brought together most of the USSEC SEA Aqua Team to Taiwan to conduct a four-day staff training and educational exercise.  This included presentations from key USSEC SEA staff, meeting with local aquaculture industry people in Taiwan and in particular a personal update from Dr.Dominique Bureau, the lead of the Consortium working with USSEC on maintaining and updating the Asian Aquaculture Feed Formulation Database (AAFFD).
October 2015: Participated in the GAA GOAL Meeting in Vancouver, Canada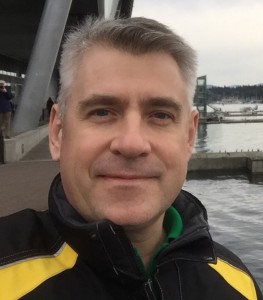 In October 2015 I traveled to Vancouver to participate in two events:
USSEC Aquaculture Industry Advisory Council Meeting
The Global Aquaculture Alliance's Global Outlook Aquaculture Leaders (GAA GOAL) Conference
Both of these events brought together high level industry people to discuss key issues facing the global aquaculture industry.
September 2015: Launching of the Asian Aquaculture Feed Formulation Database: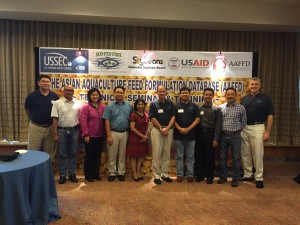 In September 2015 SCA worked with USSEC to launch the Asian Aquaculture Feed Formulation Database (AAFFD) a first-of-its-kind formulation database for aquaculture. This database was a joint effort of several different organizations, including USSEC, USAID, the Canadian Government, SCA, Veridis Aquatic Technologies Inc. and several other cooperating organizations and individuals.  This consortium of effort has been led by Dr.Dominique Bureau, a noted nutritionist and professor at the University of Guelph.
The intent of the AAFFD is to create a baseline formulation database for the aquaculture industry to use a benchmark and training tool.  It currently has 22 different aquaculture species group nutritional profiles, 293 standard ingredients in the ingredient database and it has been imported to the Adifo Bestmix feed formulation software platform.  It is expected in the near future that the database will undergo significant improvement and that the database will be importable to all major feed formulation software packages.  This database is being made available free of charge to industry.
The rollout of the database took place in seven locations in five nations of Southeast Asia:
Indonesia (Jakarta and Surabaya)
Malaysia (Kuala Lumpur)
Philippines (Manila)
Thailand (Bangkok)
Vietnam (Ho Chi Minh City and Hai Duong)